Well, after much waiting (transatlantic shipping, customs, and whatnot), my Claymore Castings arrived yesterday!!
And I discovered that, in my eagerness to order these, I accidentally ordered TWO sets of 20!! D'oh!
Either I'll use them or maybe someone following here would like to trade for some other medieval models of one kind or another..
At any rate, with these three units of six levy-equivalents, my Stark "Dux Westerosum" forces need only one more unit of six men-at-arms to be complete.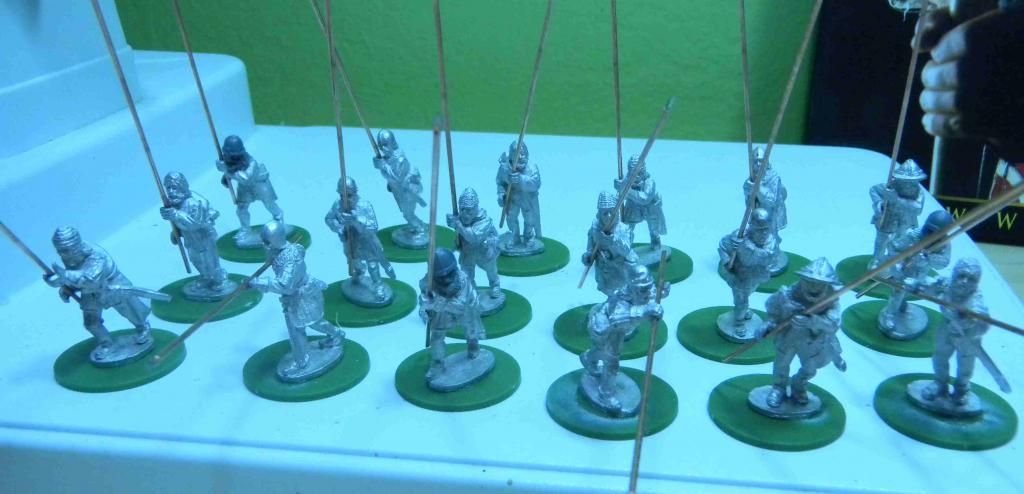 Stark Liveried Pike - aka "Levy" in Dux Brit
As you can see, I've already made 3 head swaps using Gripping Beast hirdman heads. I did this for two reasons: one, because there were too many kettle helms for my taste and, two, I wanted some visual ties to the other units. Just need a bit of putty around the neck seam, but they came off rather well.
I'll confess I paused as I held the nippers poised to decapitate my $3 model that just traveled weeks from England. But hey, gotta break a few eggs to make an omelet. Besides, I have another 16 models I didn't realize I ordered.
I'm moving on to texturing the bases and greenstuffing obvious joints and seams as I wait for Fireforge to release their Teutonic foot knights with the cloaks and bodies I need to finish the second unit of warriors/men-at-arms.
I'm happy with the momentum and my mantra is "
Get them to the table.
"