Hear Me Roar!
Particularly when I crazy glue all these fiddly bits to myself and not the model I'm trying to assemble.
But that's a blog post for another day..
.
Okay, time to put up or shut up. I told you (all five of you) that I'm going to do this thing. So, I've thrown together some models to give me a rough sense of how things will look together - both models from different lines and parts of models across lines.
First up are my Lannister forces that are 75% assembled. Again, I intend to use Dux Britanniarum (DB) - and occasionally SAGA - so my force composition will be:
1 Lord
2 Nobles
1 Unit of 6 "Elite" foot (or 4 Shock Cavalry) - i.e. Household Knights
2 Units of 6 "Warriors" - i.e. Men-at-Arms
3 Units of 6 "Levy" - i.e. Liveried Retainers
1 Unit of 4 "Skirmishers" - Archers or Crossbows
(SAGA, as you probably know, uses 4 elite, 8 warrior, and 12 levy, for which I'll build extra levy)
So, let's start off with the forces of Lannister, for which I'll use mostly Perry plastic WotR. My design logic is that the Houses of Lannister, Tyrell and Baratheon are the wealthiest and therefore equate to mid-15th century styles with some minor modifications and mix-ins to reduce the immediate association with WotR.
Lannisters with High-Falutin' Crossbows - aka "Skirmishers" in DB




Lannister Liveried Retainers - aka "Levy" in DB
I'm already considering swapping out pikes for bills and halberds and leaving Stark with primitive (and distinctive) pikes.
I welcome your opinions in the comments.
Lannister Men-at-Arms - aka "Warriors" in DB
I love these Perry pavisiers from the Agincourt range. I have not decided on my second group of "warrior" equivalent troops. My options are:
Get another six of these but in a different pose (standing)
Use my plastic Perry WotR bodies in full harness, with kettle helms, pavises and spear arms or sword arms from my Fireforge kits.
Claymore Casting Ottoburn knights on foot
Again, I welcome your ideas, opinions and suggestions in the comments section.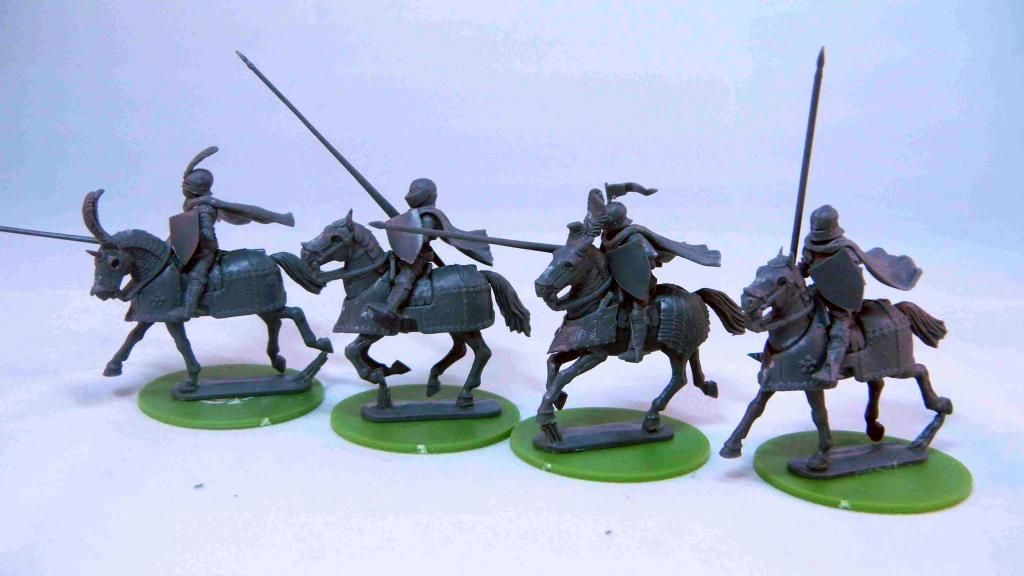 Lannister Elite Horse - aka Shock Cavalry in DB
Here I gave them cloaks and small heater shields from the Fireforge Mounted Serjeants to break up the obvious WotR sillouette. Given the full harness they have on, the shields are intended to look almost decorative, retained primarily to carry the sigils of named Lannister bannermen from the books. At the very least, red cloaks will look flash.
I will also create an alternative "elite" unit of 6 foot knights and I'm probably going to go with Perry metal Agincourt foot command/French high command, picking out the figures that are wearing jupons that can be adorned with bannermen sigils. I may even swap some heads to align with these heavy cavalry pictured here.
But if anyone has better suggestions, I'm open to clever ideas.
Next up...

STARK

conversions!